BBC News School Report Day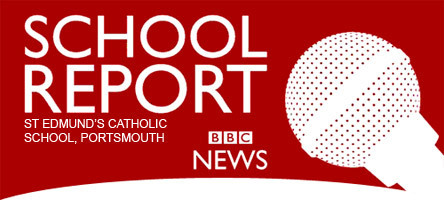 BBC News School Report Day is a journalism project for students aged 11 to 18 across the UK. Students can write, film & record the news and upload it to their school website which is then linked via a BBC interactive map. This means that local school news is accessible to a worldwide BBC audience. The BBC showcases the work of School Reporters across BBC programmes in the UK on News Day which this year is Thursday, 15 March 2018.
Click this Link (Or the logo above) to visit the official 'BBC News School Report' Site!
BBC School Report Day - Thursday 15th March 2018
Please click on a video or download and read our written reports below!
Previous BBC School Report Days

Please use the links below to view our previous stories!
St Edmund's Catholic School News
BBC School Report - Archive Stories (2015-17)
Video - The refugee crisis.

Video - The shocking facts of animal testing

Video - Teens who have tried smoking or drinking

Video - Why rewarding students is so important.

Video - Advice on how to maintain good mental health.

Should girls be allowed to wear makeup to school?

Closure of the Isle Of Wight Ice Rink By Jade

Video - The origins of Portsmouth's Dockyard

Video - Why performing arts is so beneficial to students

Video - Spirituality and faith at St Edmund's.
Further Articles »
BBC Newsround
Latest Newsround stories