Parents Evening
Due to the current restrictions we face and wanting to keep everyone safe, we are moving to an online system this year. Parents will be able to book appointments and speak to teachers virtually, avoiding all face to face meetings. This we hope will still offer parents and teachers' the chance to communicate about each students' progress and put in place actions to further aid each individuals progress.
if your Parents Evening is soon, please look out for a letter from the School detailing these exciting changes along with instructions on how to register for this new service.
Book Your Appointments or Attend Our Online Parents Evening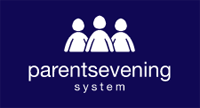 If you have received your Letter, Please Click Here To Access
Our New Web Based Parents Evening Portal!
Instructions & Help Documents can be found below.