School Clubs
Please note that this list of clubs is subject to change but accurate at the time of uploading.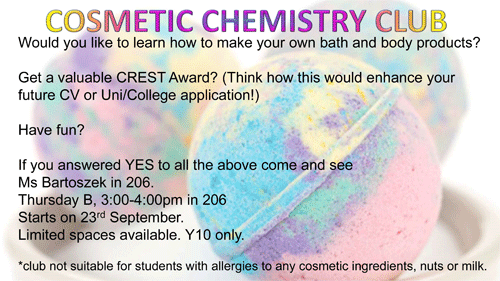 Graphics catch-up session every Tuesday 3.10pm - 4pm. Attendance is compulsory for all year 11 students. This will run until Autumn Term at least.
Update 01/11/2021:
Water Polo: From the 1st November Water Polo has now moved to a Monday after school.
Debate Club For the rest of this term Debate Club will take place on Mondays, Week A ,3.10pm-4pm (214)
Hockey Club: Hockey Club cancelled Weds 3rd November 2021 and will now be moved to a Monday week B only for future weeks.
Extra-Curricular Clubs 2021-2022
PE Homework: KS3 Students must attend at least 2 clubs to complete their PE homework.
UPDATE 01/12/2021
The PE Clubs will finish on Friday 3rd December and a new Clubs timetable will be uploaded soon for the Spring Term.
NO PE CLUBS 6th - 17th December Inclusive.
PE Extra-Curricular After School Clubs Autumn Term 2021-2022