School Trips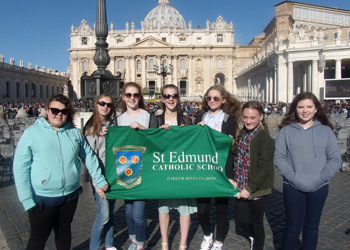 Summer Term 2019
April:
26th - Year 9 G&T Slam Poetry Visit.
May:
1st - 'Blood Brothers' Trip for Year 9/10, Kings Theatre, 7.30pm.
7th & 8th- Year 7 Boleh Trust Sailing Trips.
15th - Apprenticeship Show, Fratton Park.
24th - Year 7-9 Swimming Gala, Mountbatten Centre, 1-4pm.
May Half-Term:
Departing 24th May - returning Saturday 1st June - Barcelona Sports Tour Trip.
June:
3rd - HM Naval Base Trip, 1pm until 3pm.
7th - Annual Schools Mass, 11am - 1pm
10th - Marwell Trip.
13th - Years 7/9 Athletics Trials, Mountbatten Centre, 1pm-3pm.
14th - 22nd June - Italian Watersports Trip.
24th - Year 8M Retreat.
25th - Year 8T Retreat.
28th - Year 10 History Trip to London.
July:
3rd - Years 7-10 Athletics Championships, Mountbatten Centre, 1-4pm.
4th - Sports Personality of the Year, 6pm, School Hall.
5th - Harry Pottery World Trip.
12th - Year 10 Reward Trip.
16th - KS3 Reward Trips.
18th July - Whole School Sports Day, HMS Temeraire.
These dates are correct at the time of going to print and may be subject to change.
| | | |
| --- | --- | --- |
| | | |