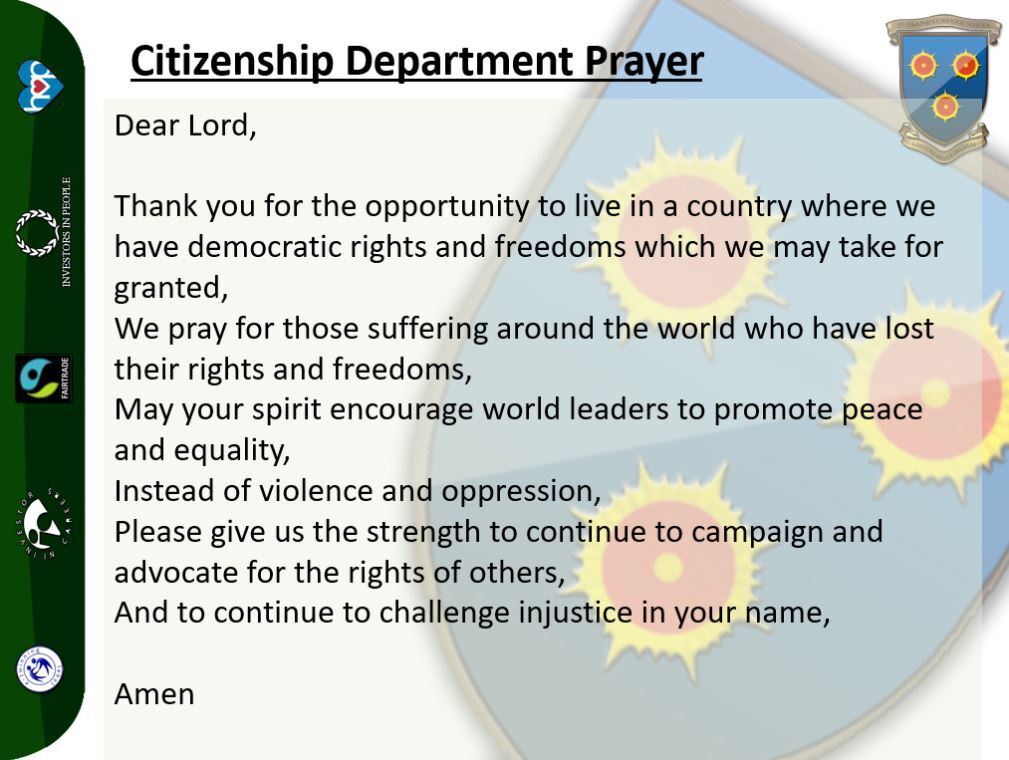 Citizenship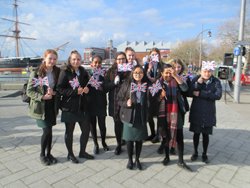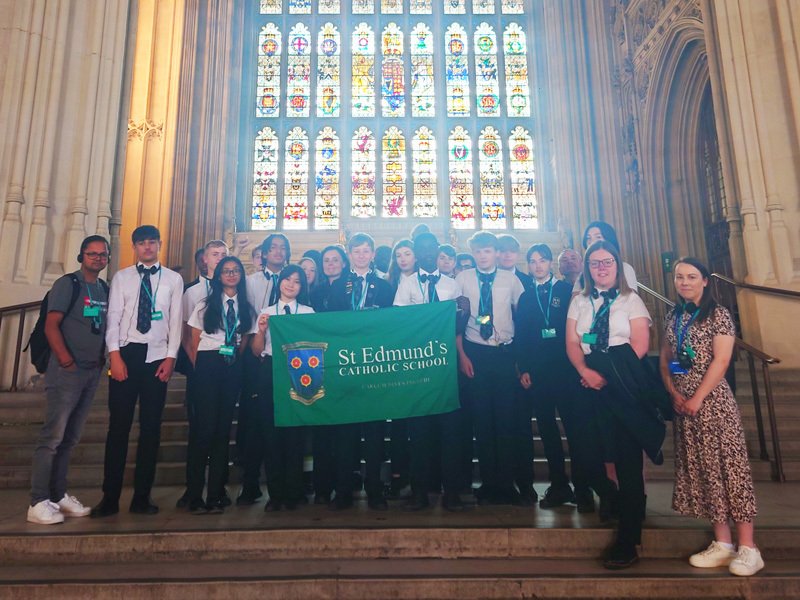 Intent
Citizenship is the study of what it means to live as a citizen in modern Britain and encourages students to think about how they can contribute to and participate in society. We use a range of teaching techniques and aim to make the lessons as engaging as possible by using a variety of games, group work, drama, discussion, quizzes and video to stimulate discussion and learning.
I chose citizenship because I think it is important to be educated on how your country is run and what policies are put in place to maintain your freedom and a democratic society. I love citizenship also because it is very engaging and is perfectly applicable and up to date with our current world which is also why I became a prefect for citizenship, and why I believe citizenship is the perfect subject for those who take an interest in politics because it gives you an amazing insight on the world's media, politics, law and society.
Jody A - Citizenship prefect
Key Stage 3 (Year 7 -9)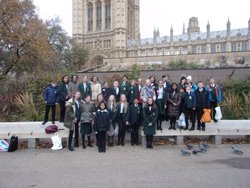 Implementation
In year 7 students learn about why society needs laws and how those laws are made. They learn about Human rights and Children's rights. They learn about the Government, the House of commons and the House of Lords, the importance of the democratic process including elections and the right to protest and participate in society.
In Year 8 students learn about the criminal law including the age of criminal responsibility. They consider the role of the police and learn about powers of arrest, stop and search and the role of the criminal courts. They also explore the reasons people become involved in crime and how crime can be prevented.
In year 9 students learn about how and why some people turn to acts of terror, they consider what it means to be radicalised and how to recognise how people may be exploited. They learn about case histories from recent history in this country and abroad to reach a deeper understanding about why there are areas of conflict in the world. They also consider what changes could be made to improve our society.ple turn to acts of terror, they consider what it means to be radicalised and how to recognise how people may be exploited. They learn about case histories from recent history in this country and abroad to reach a deeper understanding about why there are areas of conflict in the world. They also consider what changes could be made to improve our society.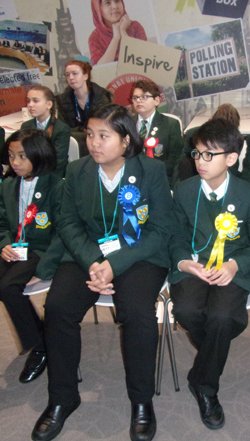 Key Stage 4 (Year 10-11)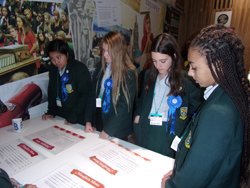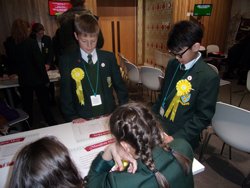 The topics included in the programme of study are
Life in Modern Britain
· Identity, Diversity, the need for mutual respect and understanding.
· Changes and movement of population and the impact of this on different communities.
· The Role of the Media and Free Press.
· The UK''s role in key international organisations.
Rights and Responsibilities
· What laws does society require and why?
· Citizens' rights and responsibilities in the legal system. How law has developed and how it protects citizens and deals with criminals.
· Universal human rights and how we protect these.
· The role of citizens in bringing about change in the legal system.
Politics and Participation
· Democracy and power, British constitution and the role of government including the need for opposition, checks and balances
· Local and devolved government
· Voting Systems
· The roles of MP's Ministers and other representatives
· How citizens can bring about political change
Assessment
The subject is assessed by 2 examinations each lasting 1 hour 45 minutes.
Paper 1 is in 2 sections.
Section 1 asks questions about the students own Citizenship Action project and Section 2 addresses the topics of Politics and Participation
Paper 2
Asks questions about Life in Modern Britain and Rights and Responsibilities
Exam Board Information
We follow the AQA Citizenship studies (8100) GCSE course further details can be found at https://www.aqa.org.uk/subjects/citizenship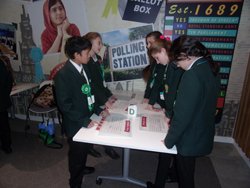 A visit from Stephen Morgan
'It was a Friday afternoon that couldn't have gotten more interesting and exciting than meeting a local politician who represents the Labour Party for Portsmouth South. He is the shadow minister of Education and schools, and it was amazing being able to ask him questions and seeing what he plans to do if his party gets into power at the next election. Particularly how he would improve Portsmouth as a city, and how he would change the National curriculum and impact Parliament. I thought it was a great experience to meet such a well-educated and intelligent man that was born and raised in our local area, showing us what we have the potential to achieve in the future. He was bombarded with a barrage of questions by both of our citizenship classes, and he was put on the spot by some of the questions the St Edmund's pupils asked him which varied on different topics such as animal welfare, government policy, his personal life and even football. I enjoyed it very much and I hope he visits St Edmund's in the future to give other students the same great experience and provide them with inspiration for the future.'
Luca N - Citizenship prefect

Active Citizenship Project
Students also have the unique opportunity to raise awareness about an issue that they are passionate about as well as supporting charities close to their hearts. They can use the skills they have learnt in citizenship to advocate for those who need help most, and make a difference to charities and world issues by raising money and encouraging others to use their initiative and make the change they want to see in society. Projects have ranged from litter picking on Southsea seafront, encouraging our local MP to advocate for the homeless, to fighting racism and holding our own school general election. Below are some of the examples of what the students have created for their active citizenship project.

My trip to the House of Parliament and what I learned
By Jody
I went on a trip to parliament recently with my citizenship class and I learned many interesting things. During the course of our trip, we were given an educational tour by staff and it was an incredibly fun and distinct experience.
We were made aware that there were two different "houses" within parliaments, you have the House of Lords alongside the house of parliament. The House of Lords has approximately 300 members of which the vast majority, 240 are elected members while the remaining 60 are appointed independent members that have practically just inherited their position. Whilst in the house of commoners all of the members are elected. The house of commoners also isn't nepotistic in comparison to the House of Lords, this in my point of view gives it more merit because it means that common citizens are also able to be represented in the making of legislation regardless of their background.
Furthermore, during our tour, we were brought to a room within parliament where many statues were placed, most of the statues were covered due to renovations but we were made aware of one statue, in particular, the statue of Viscount Falkland. Margery Hume, a suffragette bravely chained herself to the statue of Viscount Falkland as a means of protest which ultimately damaged the statue's right boot. This was never repaired because it was then turned into a symbolic remembrance of the bravery of the suffragettes and how it has shaped parliament and politics as a whole.
There was also one thing in particular that stood out to me on our visit, parliament is filled with such intricate and amazing artwork. There was a piece in one of the entrances called "new dawn" it is is a tribute to the decades-long campaign for women's right to vote including Member of Parliament John Stuart Mill who presented the first mass petition calling for women's votes in the House of Commons. It is made up of 168 hand-blown glass scrolls which contain different pieces of legislation. That isn't even the best part the glass scrolls change color and light up in many different hues depending on the tide of the Thames, so the piece looks different depending on what time you visit. This brilliant piece of art was created by Mary Branson, who for more than two years has been Parliament's 'artist-in-residence' for women's suffrage.
In conclusion, our trip to parliament was a monumental experience, we were able to listen to a discourse between members of the House of Lords on the topic of Covid-19 and it was a very interesting thing to see. Parliament was also filled with so many different pieces of art and décor from different periods, so it was almost like I was taking a trip back in time into the past, that was probably my favorite part of the trip, all the aged historical pieces depicting influential people that have sparked change within parliament, it was truly an amazing experience.
Pupil voice
'Since September we have learnt about British values and what modern British identities are present as well as how they are shown. We have also learnt about multiculturalism and the co-existence of different ethnic races and religions. Migration and immigration are other topics we have learnt about as well as NATO and the Commonwealth. We also looked at a case study on Marcus Rashford about how he made a difference to children by using the media and campaigning against the government to provide for people in the pandemic. My favourite topics I have personally learnt about in citizenship is about different types of laws and how NGOs help people all around the world in poverty and war-torn countries. Additionally, I enjoyed learning about legal representatives and the role of Judiciary I think this subject is important to learn and study because you get to know about politics and our government system as well as our laws and learn about other cultures and religions.'
Djamila – year 10
'In citizenship we have been learning about human rights, identity, British values, police powers, court systems and the media. I have enjoyed learning about the justice system and human rights because the legal system has always been a personal interest of mine and one of the reasons I took citizenship was to learn all about rights and my rights and the legalities and unfairness in the world so that along with others I can help shape it into a better world in the future. It's important to know about the legal system because we all live on earth so it's good to be aware of what's happening when there is a crime and knowing what our civic duties are.'
Melody – year 10