General Contact Information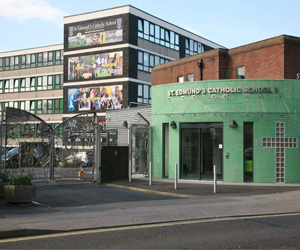 St Edmund's Catholic School
Arundel Street
Portsmouth
PO1 1RX

School Telephone Number: 023 9282 3766
School Email: school@saintedmunds.org.uk

Reception is open from 8am until 4pm (Term Time) and closed during the school holidays
To contact the Finance Office please email: finance@saintedmunds.org.uk
To contact the School Uniform Shop please Email: uniformshop@saintedmunds.org.uk
To contact the Exams Office please email myexams@saintedmunds.org.uk
For all other enquiries please email school@saintedmunds.org.uk
All our calls are now monitored for monitoring, safeguarding and training purposes.
Heads Of Year / Department Heads
Please click here for our dedicated 'Key Contacts' page for Parents / Carers.
How to find us
The School is in the centre of Portsmouth and is located adjacent to the junction of Arundel Street with upper Arundel Street.
The main School entrance is in Arundel Street which is two minutes walk from Portsmouth and Southsea Rail Station and close to all bus routes.
The Gosport Ferry is also within easy reach.
Car Parking on the School Site
Please note that the school can no longer accommodate any car parking for visitors entering the school site.
Alternative car parking can be found at: Railway View (free). Claxton Street (free). Cottage View (free). Highfield Road (free). Milford Road (free). Asda Portsmouth (3 hours free parking). In the school vicinity (pay and display).
We are trying to encourage our staff and visitors to utilise public transport or cycling/walking where possible. Over the summer the school has invested in new bike sheds which we welcome any visitor to utilise when visiting our school.
For lets after school i.e. swimming clubs car parking access is available from 4.15pm. The gates will open automatically at 4.15pm to allow lets onto the school site.
If you require a download of any of the information contained within our school website please email your request to school@saintedmunds.org.uk