Intent
Work well with others, Work independently to improve skills via determination and problem solving through a variety of sports.
Use creative skills individually, in teams or through group work.
Appreciate a wide range of different sports and experiences.
Implementation
Enrich every pupils in a broad and exciting curriculum allowing them access to a variety of sports. This is done with the aim to further pupils in sporting participating to internal and external clubs. Maximum participation with maximum enjoyment. Each Sport will allow pupils to develop techniques, overall health and overall fitness.
Impact
We also aim for all pupils to experience what is it like to work in a team, developing key social skills and leadership qualities. To value winning and losing graciously.
Key Stage 3 (Year 7-9)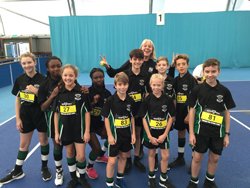 Year 7
All pupils in Year 7 will undergo a baseline assessment in the first few weeks which allows us to identify ability. Then throughout Year 7 pupils will perform the following sports; Teambuilding, Handball, Gymnastics, Swimming, Athletics, STA Swimming Awards and Rounder's.
Year 8
Pupils in Year 8 will take part in the following sports throughout the year; Basketball, Touch Rugby, OAA, Swimming, Athletics, Short Tennis and STA Swimming Awards.
Year 9
Pupils in Year 9 will be participating in the following sports- Gymnastics (Parkour), Rugby or Netball, Health Related Fitness, Swimming, Athletics, Cricket/Rounders. In the Health-Related Fitness module a mini exam will take place to support pupils option choice if they have selected PE for Key Stage 4.
Key Stage 4 (Year 10-11)
GCSE, BTEC, Core PE / GCSE Full Course (Optional)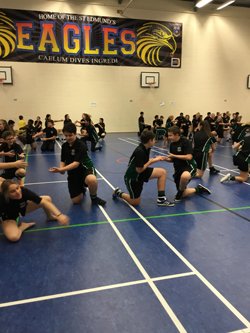 Core PE – All pupils in Key Stage will participate in 3 core PE lessons a fortnight even if they have chosen PE as an option. Core PE in St Edmund's Catholic School is Sports Leader Level 1 Award. This is with Sports Leader UK, who are a recognised exam board. Pupils will be working on improving their social skills, leadership skill and overall fitness throughout the two years. This course is a PASS/FAIL course. Pupils must pass all modules to ensure they pass overall.
GCSE PE – Pupils who take the Full course GCSE in PE have to opportunity to enhance their sporting knowledge and ability, and their theoretical understanding of the course.
The EDEXCEL GCSE is made up of three elements; Practical, Theory and Coursework.
The Practical element is worth 30% of the course and consists of the pupils being assessed in 3 sports. These sports are chosen from a variety of sports taught in lesson time at St Edmunds and sports that pupils can offer outside of curriculum time. Pupils must be assessed in 1 team sport, 1 individual sport and then 1 of either team or individual. Each sport is assessed out of 35 marks and must be videoed for evidence purposes. All sports can be found in the Practical Specification on this page. If you are planning on videoing your child outside of the PE department, they must be seen in both isolated skill footage, and competitive game footage.
The theory element of the GCSE consists of a full Edexcel syllabus with 2 exams:
Exam Paper 1 Fitness and Body System 36% of qualification, 1 hour and 45 minutes.
Exam Paper 2 Health and Performance 24% of qualification, 1 hour and 15 minutes.
The Coursework is 10% of the qualification and is marked by an external moderator. The coursework is worth 20 marks and pupils must carry out and monitor a Personal Exercise Programme with an evaluation. Pupils will perform the PEP practically and complete the project in a computer room.
Year1 (year 10s) will complete Unit 1 Fitness training including fitness tests and methods of training by completing their Exam after the first term. Unit 3 Applying the principles of training will begin in the second term. This will be a 6-week training programme that is self created and performed. Pupils will begin the filming for their swimming evidence in the third term.
Year 2 (year 11s)
will complete Unit 2 Practical sport in the first term. The sports will vary from Swimming, Handball, Netball and their chosen sport from unit 3. The second term will complete Unit 6 the Leading a sporting event. This allows pupils to coach in a sport of their choosing to Key Stage 3 pupils.
The Champion Cup Winners 2021 took part in the reward trip to Fort Purbrook. They took part in Laser Quest, Bouldering and an Obstacle Course.