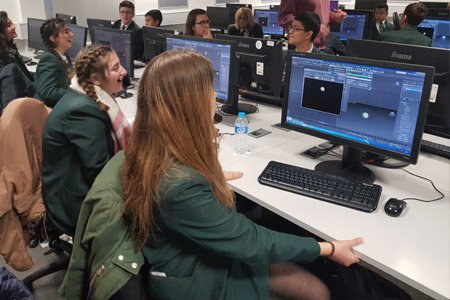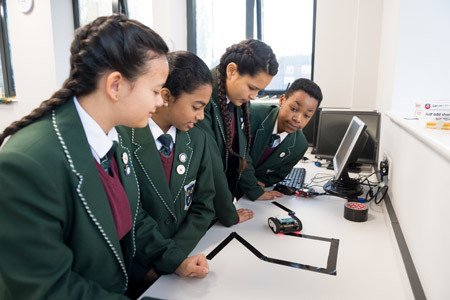 Information Communication Technology & Computing
Approach to Teaching
Both Key stage 3 and 4 are taught with a project based approach. IT and Computing is seen as a practical subject with real world applications, a tool for everyday living in our technological society. Digital Literacy is taught not as a discrete subject, rather it is integrated into each topic, seen as a tool and not an end unto itself.
Coding and computational thinking is delivered throughout the 5 years, mainly using python, html and some block based programming.
Extra-curricular clubs such as robotics and programming club are key to producing robust enthused pupils that can become the future of the tech industry.
Key Stage 3 (Years. 7-9)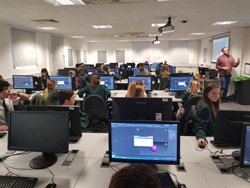 All years begin with E Safety training, reminding students how to use computers, the Internet, social networking, email etc, safely and responsibly. They are also taught how to seek help and support when confronted with unsuitable material or e bullying.
Year 7
Goes on to study in the first term Fundamentals of computer science and the basics of how computers work. This is followed by an introduction to coding/programming. The spring term introduces block based programming using the BBC Micro: bit while learning how computers think, covering logic and algorithms. The summer term looks at the history of computers and computing and how computers have influenced human development and our everyday lives. The year ends with students exploring software used in the workplace, such as Sketch Up and Adobe Photoshop.
Year 8
Follows E safety with a review of block based coding/programming, while looking at logic and logic gates, and introducing binary. Next comes fundamentals of computer systems including system architecture and use of the LMC (Little Man Computer) simulator. In the spring term study of the Internet and the World Wide Web also introduces HTML, the language of web pages, providing students the opportunity to create a web page 'from scratch'. This leads into networks and networking and the technical issues involved. The summer term topic 'How computer games are made' looks at the process from beginning to end, resulting in students creating their own game. 'Computers have enhanced our everyday lives. True or False' is the basis of the end of term project. Students research through surveys, personal observations and experiences and Internet research to come up with the answer.
Year 9
After E safety, a continuation of Python programming, creating programs to solve everyday problems. This if followed in the spring term by databases, especially their relationship to programming and everyday applications. In the summer term the projects are set dependent on the students' GCSE option choices, including advanced Python or data based project or creation of a website using HTML coding.
Key Stage 4 (Year 10-11)

Computer Science
Follows the OCR GCSE (9-1) specification.
The qualification will build on the knowledge, understanding and skills established through the Computer Science elements of the Key Stage 3 programme of study. The content has been designed not only to allow for a solid basis of understanding but to engage learners and get them thinking about real world application
OCR's GCSE (9–1) Computer Science specification encourages learners to be inspired, and challenged through completing a coherent, satisfying and worthwhile course of study. The specification will help learners to gain an insight into related sectors. It will prepare learners to make informed decisions about further learning opportunities and career choices.
The Computer Science is developed into two exams at 50% each, these include:
Computer systems (50%) (1 hour 30-minute exam)
Systems Architecture
Memory
Storage
Wired and wireless networks
Network topologies, protocols and layers
System security
System software
Ethical, legal, cultural and environmental concerns
Computational thinking, algorithms and programming (50%) (1 hour 30-minute exam)
Algorithms
Programming techniques
Producing robust programs
Computational logic
Translators and facilities of languages
Data representation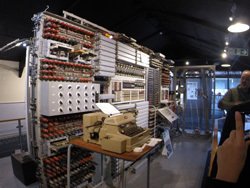 Information Technology
Follows the Cambridge National Level 2 specification. ( Level 2 Distinction* - Level 1 Pass).
The collection and communication of data and storing of data/information happens all around us. Technology underpins how it's collected and communicated nearly all of the time. It can be seen in all walks of life, from a wearable fitness tracker recording how many steps you have taken, your mobile phone provider recording your usage to create your bill or an online retailer being able to target you with specific promotions based on your purchase history. Knowing how and why data is gathered and being able to turn raw data into something meaningful is essential as the learner moves through education and into employment. To be able to do this the learner will need to have the confidence to use a range of information technology that is currently available, as well as being adaptable and resilient enough to deal with the rapid advances.
This qualification is about applying understanding and skills to use technologies to select data, manipulate, store, analyse and present it as information, and follow a project life cycle to structure how it's done.
Assessment Unit R012 - Understanding tools, techniques, methods and processes for technological solutions (50%) (1 hour 45-minute exam)
Learners will sit an exam to assess their knowledge and understanding of different technologies (hardware and software applications), and tools and techniques used to select, store, manipulate and present data and information.
They will also be assessed on what the phases of the project life cycle are, the interaction between the phases and the inputs and outputs within each phase. Using this understanding of the project life cycle, together with their knowledge of various information technologies, they will be prepared to develop technological solutions.
Assessment Unit R013 – Developing technological solutions (50% (20 hour assessment)
This assessment focuses on how effectively learners use their skills when developing a technological solution.
They will be given a project to develop a technological solution that processes data and communicates information.
They will follow the project life cycle phases of initiation/planning, execution, communication and evaluation, demonstrating the practical skills they have acquired such as carrying out a SWOT analysis, creating GANTT charts, developing online surveys, and/or presenting data through web based technologies; keeping their project on track through on-going, iterative reviews.
They will use different hardware and software technologies to create an integrated technological solution for data processing and communication of information.