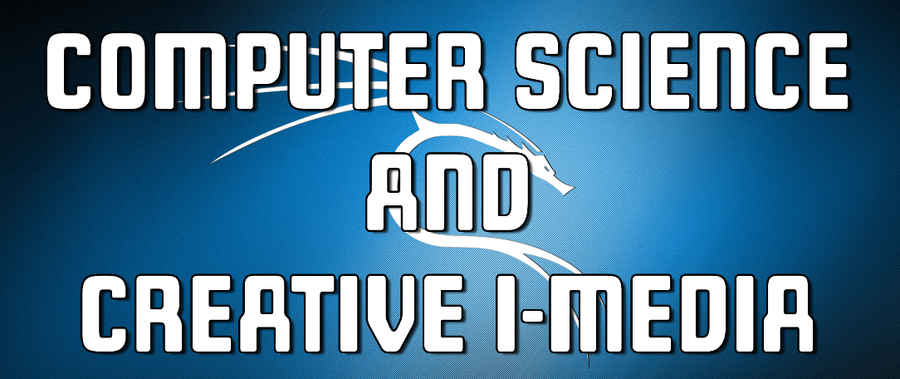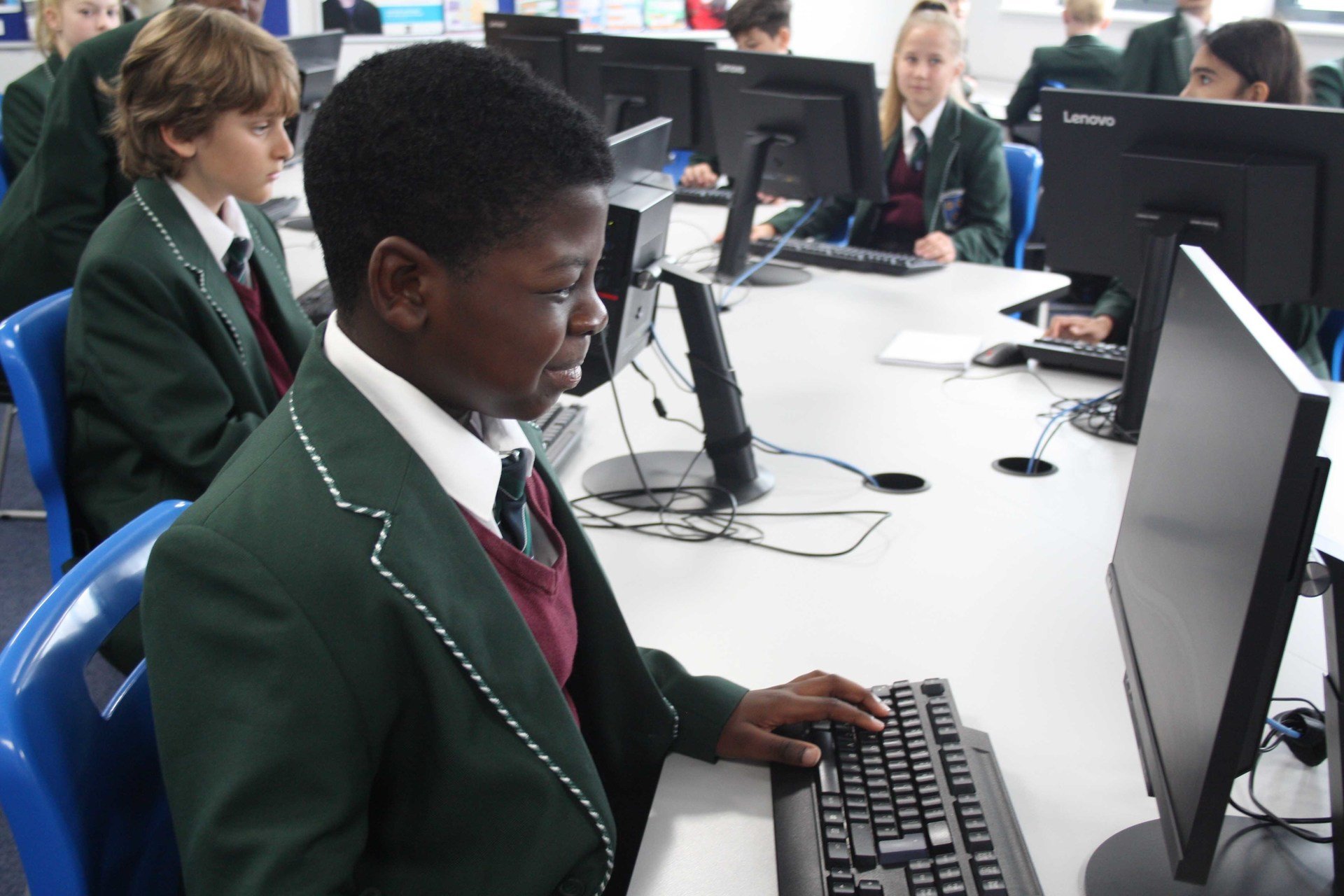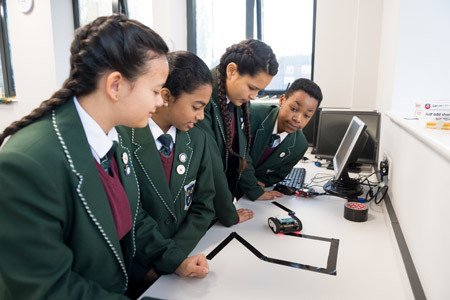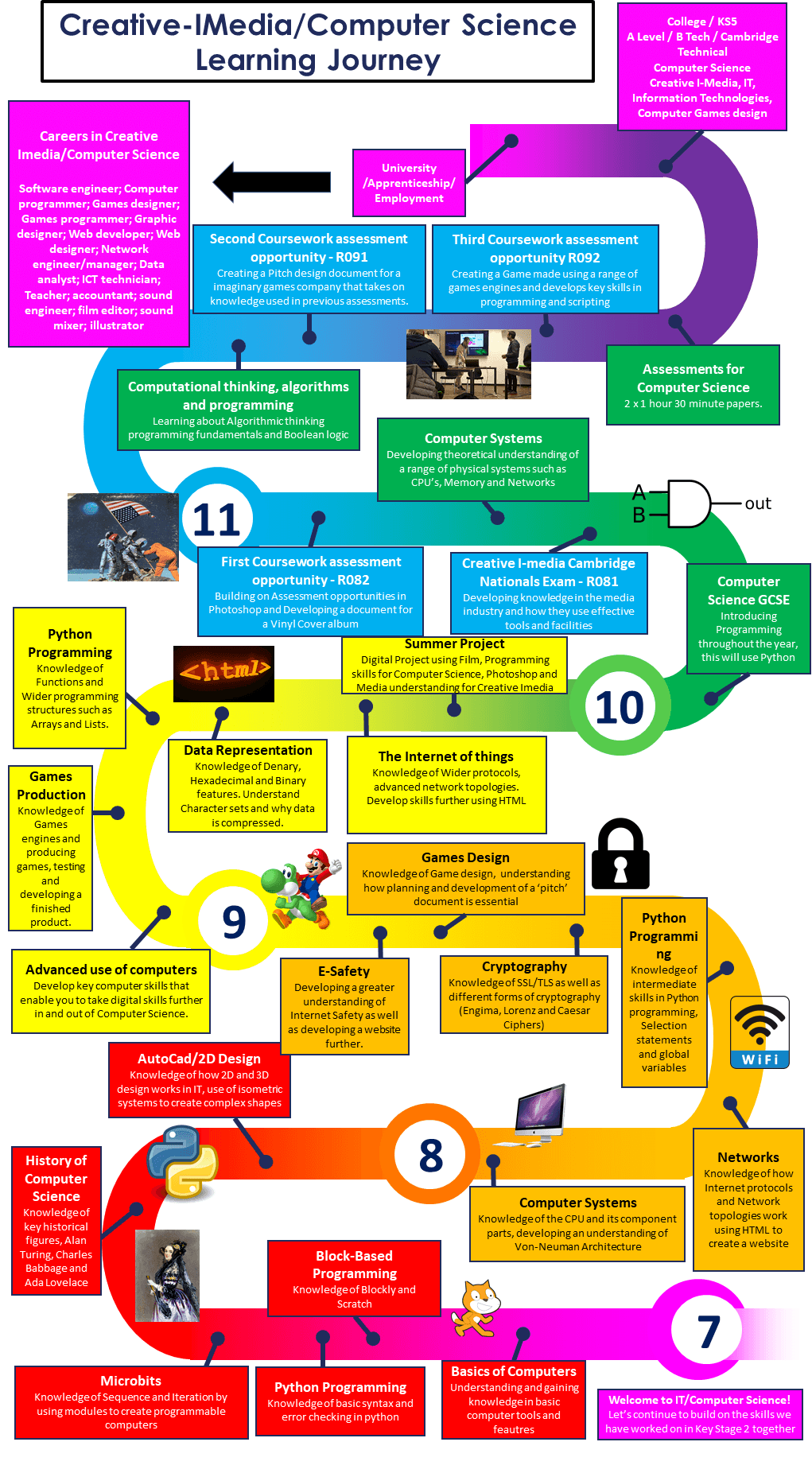 Computer Science 2023
Women in STEM event - Bletchley National Museum of Computing
On Friday 24th March, a selected group of female I.T. highflyers went to Bletchley Park in Milton Keynes for a fun day of conventions, code-breaking, and computer games. The day began with a 2-and-a-half-hour drive to Milton Keynes in which we listened to a lot of Mr. Hughes's favourite tunes and passed a lot of teacher's childhood villages. After an interesting coach ride, we arrived at the Computer Science Museum where we saw our first workshop. We split off into groups based on a quiz; group 1 went through a story in which a girl had her Instagram account encrypted and was given the option to pay the hackers £100, or lose the account, meanwhile group 2 made binary bracelets.
The second workshop was extremely exciting as we got to use a real Enigma machine (well, a replica of it anyway). The most interesting part was the fact that, while we decoding a message sent by the German army, each letter you pressed would become a different letter based on the number settings that you entered. However, if you were to press the same letter twice, it would not be the same letter the second time. For example, if W was P and you pressed W again it might have been N.
The third workshop was a presentation from2 computer science graduates who spoke to us about the work of women in STEM and Cyber since WW2 up to now. We found out about their work as codebreakers during World War 2 and how issues arised in the 80-90s through things as simple as calling a product the Game-BOY. We also got to answer questions based on our opinions and had lunch straight afterwards.
The fourth workshop was a search race where we would receive questions about a famous female STEM/cyber worker or astronaut, and we had to run around the museum to find the answers. When we competed the quiz, we received a prize that according to the museum worker "money can't buy." Our prize was the opportunity to play in some vintage computer game systems, such as Pacman, Snake and Lemmings.
The fifth workshop was with a software engineer who taught us how to help a computer recognise different things such as £5 notes, Mr. Hughes's shoes and even our faces. We did this by taking photos at various angles and training the computer to recognise it.
The sixth and final workshop was a brain-testing, code decryption activity where we had to use Ceasar Cipher and letter occurrence percentages to try and unscramble 3 different challenges. We used a variety of techniques such as counting how many letters there were in a word or checking if the spelling was correct. At the end, we also got some cool free stuff such as phone case card holders, USB sticks, webcam coverers, and socks!
Overall, it was a fantastic day, and we really learnt a lot about careers that we could have in the future and the work that we needed to do to achieve it.
Rowena, Year 9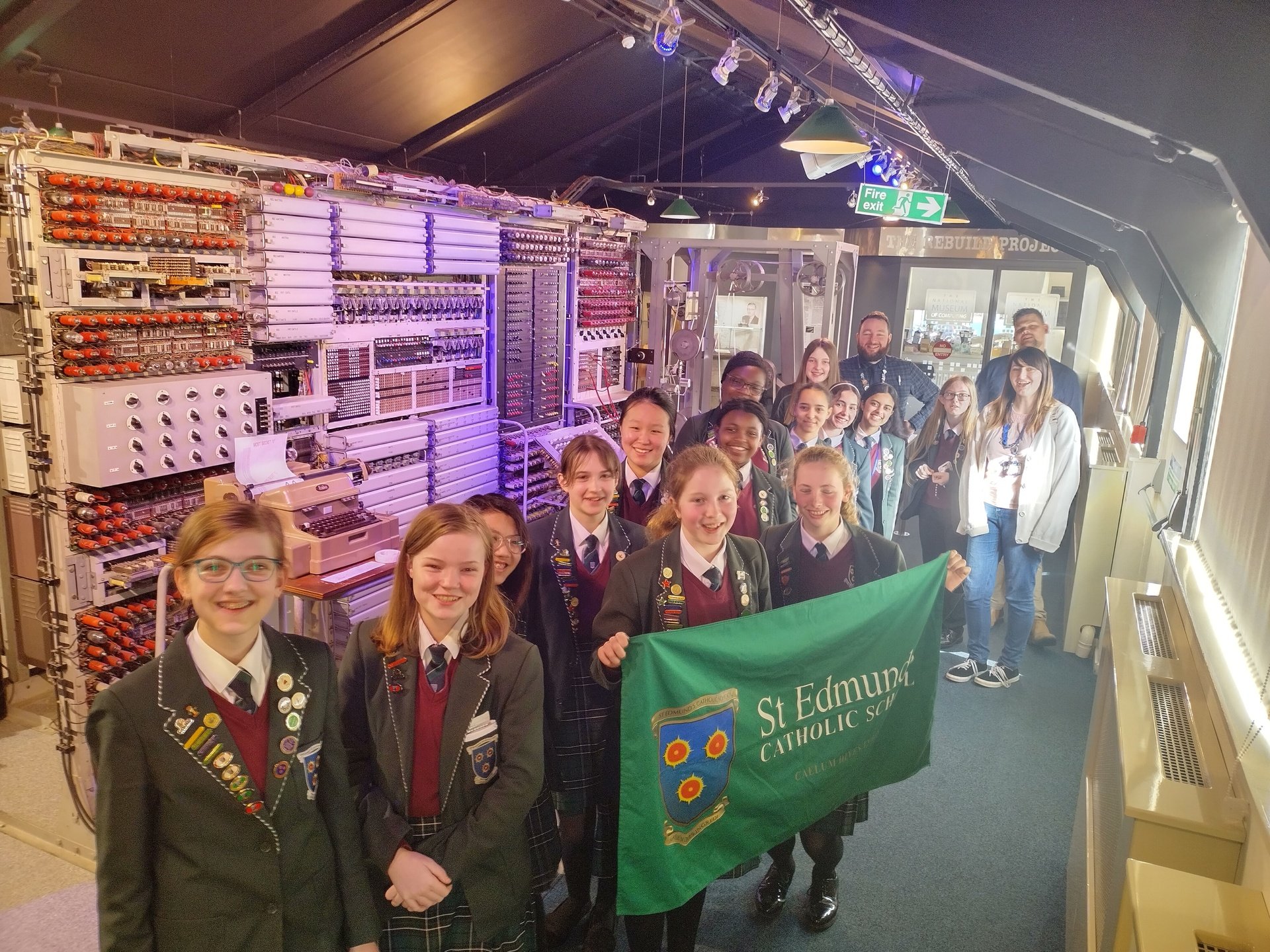 Intent
Computer Science & Creative I-Media
Both Key stage 3 and 4 are taught with a project based approach. IT and Computing is seen as a practical subject with real world applications, a tool for everyday living in our technological society. Digital Literacy is taught not as a discrete subject, rather it is integrated into each topic, seen as a tool and not an end unto itself.
Coding and computational thinking is delivered throughout the 5 years, mainly using python, html and some block based programming.
Extra-curricular clubs such as robotics and programming club are key to producing robust enthused pupils that can become the future of the tech industry.
Implementation
Key Stage 3 (Years. 7-9)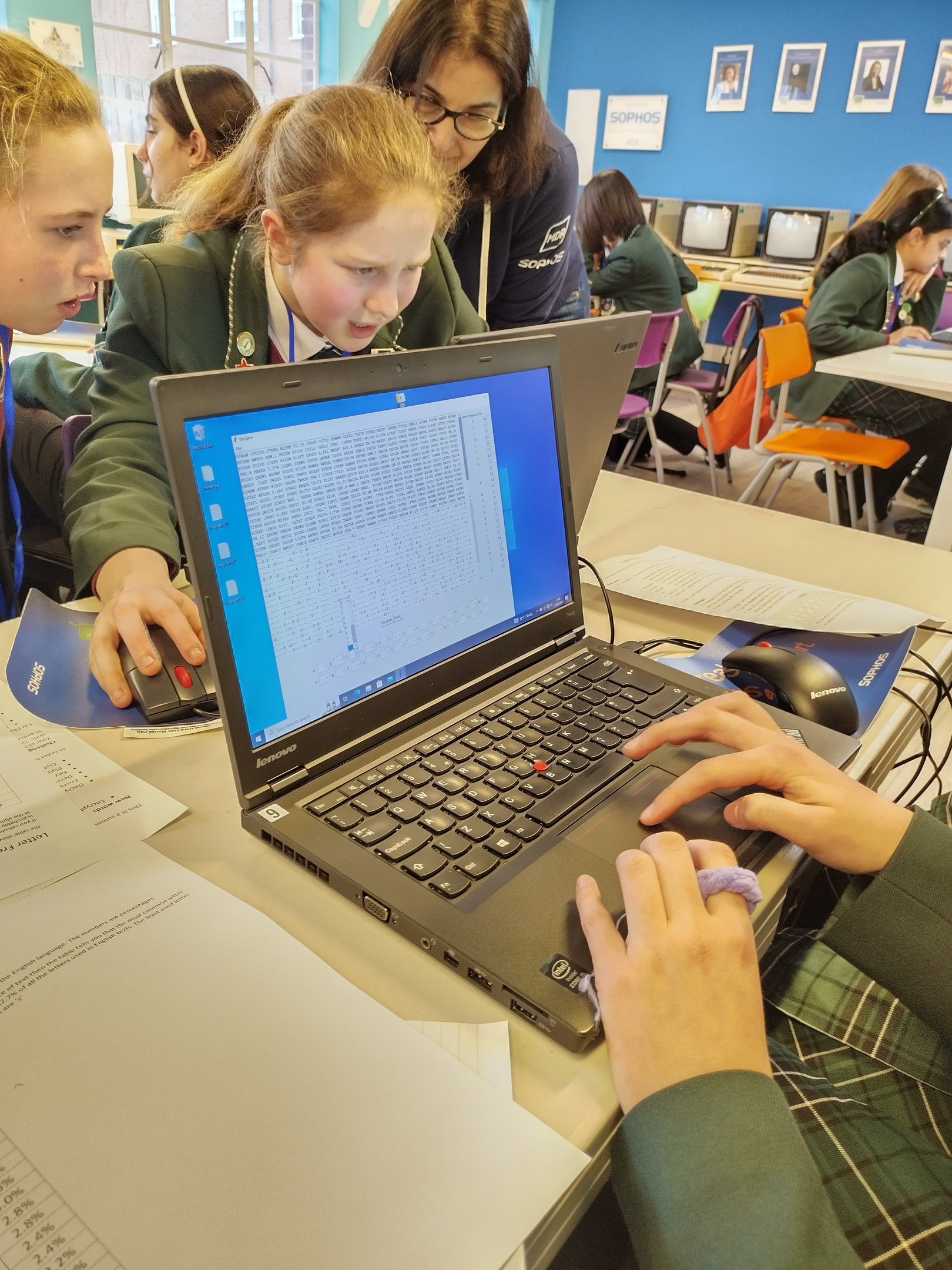 All years begin with E Safety training, reminding students how to use computers, the Internet, social networking, email etc, safely and responsibly. They are also taught how to seek help and support when confronted with unsuitable material or e bullying.
Year 7
Goes on to study in the first term Fundamentals of computer science and the basics of how computers work. This is followed by an introduction to coding/programming. The spring term introduces block based programming using the BBC Micro: bit while learning how computers think, covering logic and algorithms. The summer term looks at the history of computers and computing and how computers have influenced human development and our everyday lives. The year ends with students exploring software used in the workplace, such as Sketch Up and Adobe Photoshop.
Year 8
Follows E safety with a review of block based coding/programming, while looking at logic and logic gates, and introducing binary. Next comes fundamentals of computer systems including system architecture and use of the LMC (Little Man Computer) simulator. In the spring term study of the Internet and the World Wide Web also introduces HTML, the language of web pages, providing students the opportunity to create a web page 'from scratch'. This leads into networks and networking and the technical issues involved. The summer term topic 'How computer games are made' looks at the process from beginning to end, resulting in students creating their own game. 'Computers have enhanced our everyday lives. True or False' is the basis of the end of term project. Students research through surveys, personal observations and experiences and Internet research to come up with the answer.
Year 9
After E safety, a continuation of Python programming, creating programs to solve everyday problems. This if followed in the spring term by databases, especially their relationship to programming and everyday applications. In the summer term the projects are set dependent on the students' GCSE option choices, including advanced Python or data based project or creation of a website using HTML coding.
Implementation
Key Stage 4 (Year 10-11)

Computer Science
Follows the OCR GCSE (9-1) specification.
The qualification will build on the knowledge, understanding and skills established through the Computer Science elements of the Key Stage 3 programme of study. The content has been designed not only to allow for a solid basis of understanding but to engage learners and get them thinking about real world application
OCR's GCSE (9–1) Computer Science specification encourages learners to be inspired, and challenged through completing a coherent, satisfying and worthwhile course of study. The specification will help learners to gain an insight into related sectors. It will prepare learners to make informed decisions about further learning opportunities and career choices.
The Computer Science is developed into two exams at 50% each, these include:
Computer systems (50%) (1 hour 30-minute exam)
Systems Architecture
Memory
Storage
Wired and wireless networks
Network topologies, protocols and layers
System security
System software
Ethical, legal, cultural and environmental concerns
Computational thinking, algorithms and programming (50%) (1 hour 30-minute exam)
Algorithms
Programming techniques
Producing robust programs
Computational logic
Translators and facilities of languages
Data representation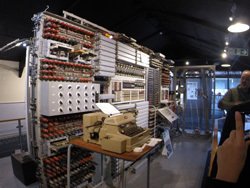 Creative iMedia
What is it?
If you like creating things on the computer, then Creative iMedia is the course you might choose.
Cambridge National in Creative iMedia is a qualification that equips students with the wide range of knowledge and skills needed to work in the creative digital media sector. Pupils start at pre-production and develop their skills through practical assignments as they create final multimedia products.
Creative iMedia has 4 units, 3 of them are based on your coursework in making and changing images using Photoshop and making games. One unit has a written exam to do, which is done in January of Year 10, but may be retaken if needed. All the 4 units are wort
RO93: EXAM - Creative iMedia in the media industry (mandatory)
In this unit you will learn about the media industry, digital media products, how they are planned, and the media codes which are used to convey meaning, create impact and engage audiences.
RO94: COURSEWORK - Visual identity and digital graphics (mandatory)
This is assessed by completing a set assignment. In this unit you will learn to how to develop visual identities for clients and use the concepts of graphic design to create original digital graphics to engage target audiences.
RO99:

COURSEWORK -

Digital games (optional)
This is assessed by completing a set assignment. In this unit you will learn how to plan, create and review digital games.
Impact
As a department we subscribe to delivering a bespoke and diverse curriculum that both non-specialists and specialists alike can provide key focuses to programming and computational thinking. All KS3 pupils have at 2 IT lessons per fortnight. This focus on programming and computational thinking, encourages pupils of all ability to engage and provide increasing success.
18/19
Computer Science (APS 4.37)
4+ 63 % 5+ 37 % 7+ 14.8 %
IT National (APS 4.07)
Pass+ 65.6 % Merit+ 31.3 % Distinction+ 3.1 %
19/20 (CAGS)
Computer Science (APS 5.36)
4+ 97 % 5+ 69.7 % 7+ 15.2%
IT National (APS 4.21)
Pass+ 73.5 % Merit+ 32.4 % Distinction+ 2.9 %
20/21 (TAGS)
Computer Science (APS 6.16)
4+ 100 % 5+ 88 % 7+ 36%
Creative I-media National (APS 4.75)
Pass+ 92.6% Merit+ 44.4 % Distinction+ 11.1 %
21/22
Computer Science (APS 4.70)
4+ 74.4% 5+ 48.8% 7+ 20.9%
Creative I-media National (APS 4.72)
Pass+ 83.8% Merit+ 48.6% Distinction+ 18.9%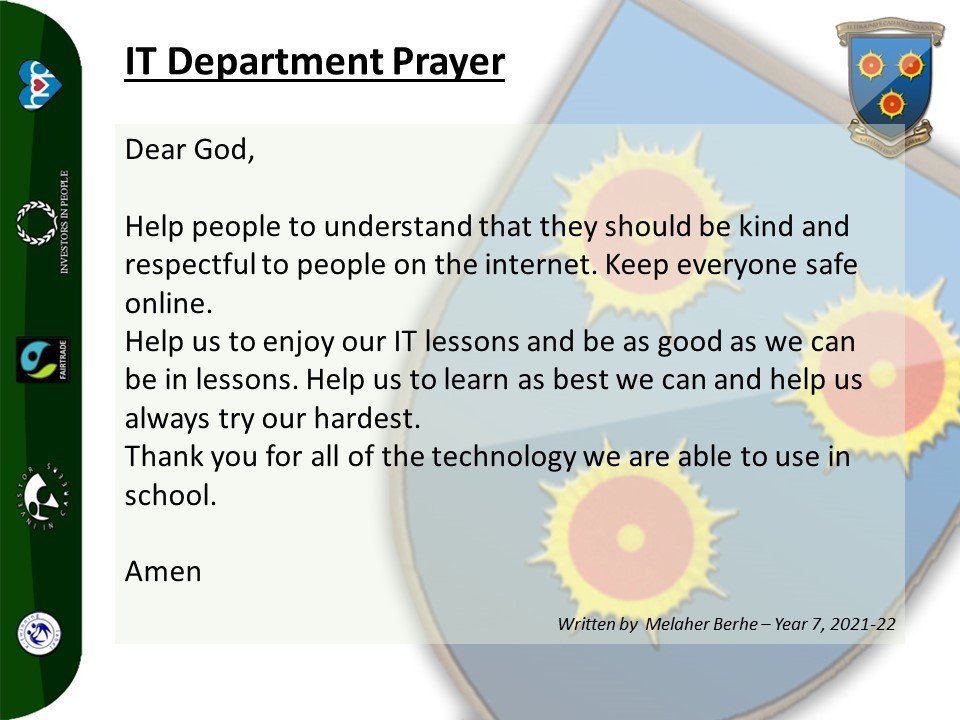 Careers
Progression in Computer Science and Creative I-Media can lead into a range of careers, a few example are shown below.
| | | | | |
| --- | --- | --- | --- | --- |
| App developer | Computer games developer | Cyber intelligence officer | Forensic computer analyst | Network manager |
| App developers design and build mobile applications for PCs, mobile phones and tablets. | Computer games developers make games that can be played online, and on mobile phones, PCs and games consoles. | Cyber intelligence officers gather information about where threats to information technology (IT) systems come from and how they work. | Forensic computer analysts investigate computer-based crime, often called cyber crime. | Network managers supervise the design, installation and running of IT, data and telephony systems in an organisation. |
Further career opportunities can be found here