History
(School Trip to Berlin)
Approach to Teaching
The History Department aims to teach highly engaging lessons that positively motivate pupils in order to make academic progress and learn about History. Students will be challenged in History and their perceptions will be tested. Our aim is for students to enjoy lessons, have fun and want to talk about their lessons with students and parents. Relevant spontaneous comments are encouraged as are the pertinent questions that offer novel ideas. Students should be sitting on the edge of their seats, willing to defy the norms and challenge historical thinking.
Lessons will be well-planned and organised, taking into account the needs of individual students. Our expectations for students are that they are punctual and are quick to settle down. Students will show a keen interest in the tasks planned for them and will be proud of the work they produce.
Key Stage 3 (Year 7-9)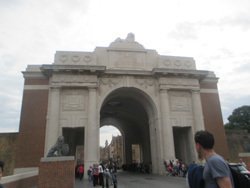 Year 7
Anglo-Saxon England, Norman England, Medieval England and the Tudors and Stuarts, and the English Civil War.
Year 8
Slavery and the British Empire, the Industrial Revolution, the Suffragettes, World War I and America in the 1920s.
Year 9
Causes of World War II, World War II and the Home Front, the Holocaust, the Cold War and the Vietnam War.
Key Stage 4 (Year 10-11)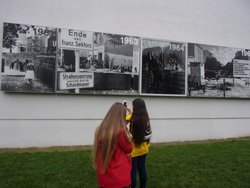 OCR History B Modern World – J417, J117.
Elizabeth 1558-1588 (Paper 2: 20%)
Key topic 1: Queen, government and religion, 1558–69
Key topic 2: Challenges to Elizabeth at home and abroad, 1569–88
Key topic 3: Elizabethan society in the Age of Exploration, 1558–88
Crime and Punishment 1000-present day (Paper 1: 30%)
c1000–c1500: Crime and punishment in medieval England
c1500–c1700: Crime and punishment in early modern England
c1700–c1900: Crime and punishment in eighteenth- and nineteenth century Britain
c1900–present: Crime and punishment in modern Britain
Whitechapel, c1870-c1900: crime, policing and the inner city
Weimar and Nazi Germany 1919-1939 (Paper 3: 30%)
Key topic 1: The Weimar Republic 1918–29
Key topic 2: Hitler's rise to power, 1919–33
Key topic 3: Nazi control and dictatorship, 1933–39
Key topic 4: Life in Nazi Germany, 1933–39
Cold War 1941-1991 (Paper 2: 20%)
Key topic 1: The origins of the Cold War, 1941–58
Key topic 2: Cold War crises, 1958–70
Key topic 3: The end of the Cold War, 1970–91