Sociology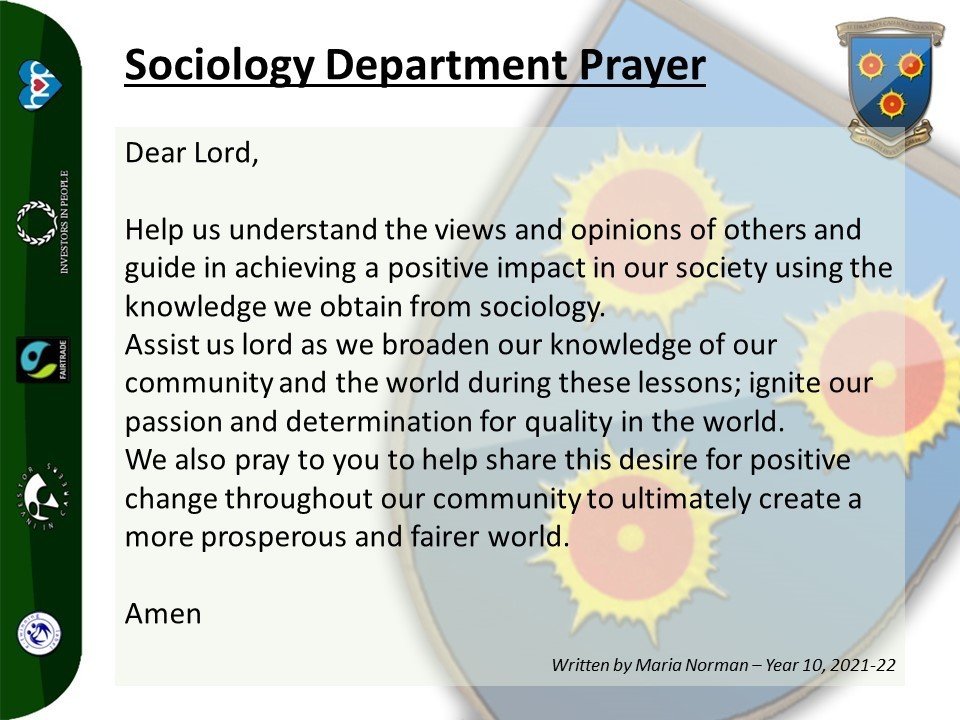 Intent
Within Sociology we believe it is important for students to gain knowledge that can be used to challenge and develop their original viewpoint. Within lessons students are encouraged to engage with group discussions and debates. It is the intent that all lessons are linked to real life examples to help reinforce pupils learning and understanding.
Pupils are expected to complete a range of tasks from exam style questions to presentations. These can challenge pupils to argue different perspectives and apply their knowledge. Pupils have their work regularly checked with informative and effective feedback being given that allows pupils to make progress across both years to ensure they are fully prepared for their exams
Implementation
Lessons are designed to develop a love for Sociology and the impact the subject can have. Students cover a wide range of topics and issues that can be linked to real life. Students are always asked to challenge their own view points with the focus being more than just learning facts and the emphasise on real world application. Lessons are designed to be engaging, thought provoking and contextualised at all times.
Diversity
Students cover a wide range of issues linking to gender, ethnicity and socioeconomic status. Pupils are encouraged to share their opinions whilst being respectful of others. Pupils are often challenged to argue points from other view points to encourage the importance of diversity within society.
Previous Results
2021

94.7% 9-4

68.4% 9-5

21.1% 9-7

2022

82.9% 9-4

75.6% 9-5

36.6% 9-7

2023

75% 9-4

60.7% 9-5

35.7% 9-7
Perspectives on the family overview