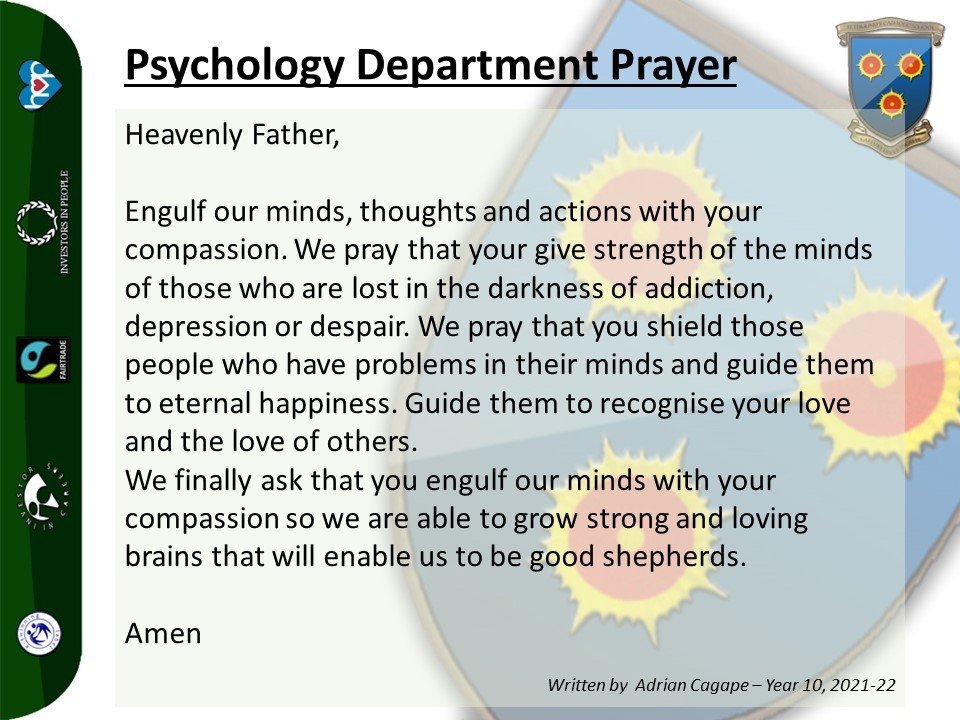 Psychology
Intent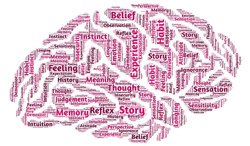 Within Psychology it is essential that students use their knowledge within real life contexts. It is intended that lessons should go beyond the learning of facts and challenge pupils to use their knowledge to explain real life events. It is also intended that students develop their ability to be critical with their processing of knowledge and whether they can trust information they are being presented.
Lessons are designed to be engaging through the use of discussion and group tasks where pupils have to take in information and challenge the reliability of theories and studies. Pupils are expected to complete all work in lessons and homework where they are provided with timely and effective feedback with a focus on feeding forward to ensure they make the maximum progress possible.
It is intended that where possible students are able to apply their knowledge through practical tasks. This can involve completing studies they are learning or making their own studies. It is essential students gain a holistic understanding of Psychology as a subject, including how research is conducted, therefore these practical tasks help pupils develop their wider knowledge.
Psychology Update Autumn 23
Key Stage 3 (Year 7 -9)
This taught in KS4 only.
Key Stage 4 (Year 10-11)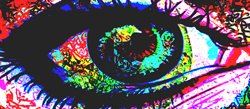 Implementation
Lessons are designed to ensure all pupils are challenged throughout all tasks. Lessons go beyond the emphasis of learning information and focus on the application of knowledge. Within all lessons students are challenged to argue against any theories or studies they disagree with as long as they can provide evidence.
There is a strong focus within the exam for the correct exam technique and this is covered in all lessons from the start of year 10 to ensure students are fully prepared for the two exams at the end of year 11.
It is essential lessons are implemented in a way that encourages a love for Psychology that inspires students to use their knowledge in ways that will increase their understanding of the wider world.
Diversity
Diversity is essential within Psychology. Students cover topics linking to a range of different social and religious events. Pupils are challenged to explain behaviour from different view points to gain an understanding of why events in the past have happened. Students are encouraged to understand the importance of sharing their opinion whilst respecting others. Throughout all topics pupils develop their respect for each other within the class and wider groups within society.
Exam Results
| | | | |
| --- | --- | --- | --- |
| | 2019 | 2020 | 2021 |
| 9-4 | 70.0 | 82.9 | 83.9 |
| 9-5 | 57.5 | 60.0 | 64.5 |
| 9-7 | 25.0 | 22.9 | 29.0 |
Edexcel 9-1 Psychology (1PSO)
Year 10
Topic 1 - Development
Do we develop I stages? How does our childhood affect later life? How do we learn from previous experiences? How do we develop our morals?
Topic 2 - Memory
How does our brain process information? How are memories stored? Are all our memories correct or are they fake? Why do we forget information? Is there always a simple answer to big problems?
Topic 3 – Psychological Problems
How do we diagnose mental health problems? What are the causes of depression? What are the causes of addiction? How should we treat mental health issues? Are you effected more by your genetics or your upbringing?
Topic 4 – Brain and Neuropsychology
What actually is the brain? Why is our brain split in half? How do we pass messages around the body? How can we damage the brain and what impact does this have on our lives? How has Psychology changed over time?
Topic 5 – Research Methods
Throughout the previous topic students will have had lessons on research methods. In the final term they apply their knowledge to one bog study which they lead and plan themselves.
Year 11
Topic 6 – Social Influence
What do people not intervene in situations? Why do we follow orders and conform? Why do we behave differently in crowds? How does our culture effect or behaviour?
Topic 7 – Criminal Psychology
Do we learn to become criminals? Are we born to be criminals? What is the best punishment to use for criminals? Does punishment work?
Topic 8 – Sleep and Dreaming
Why do we sleep? How do we know when to sleep? Why can it be hard to sleep/sleeping disorders? Freud's Theory of dreaming. What do our dreams mean?
Exams
Paper 1 (Paper code: 1PS0/01)
The assessment is 1 hour and 45 minutes.
The assessment is out of 98 marks.
The paper consists of six sections. Students must answer all questions in each section.
The first five sections will contain multiple-choice, short-open and open-response questions.
The sixth section will contain two extended open-response questions. These questions will focus on debates within psychology and the interrelationships between the core areas of psychology.
Paper 2 (Paper code: 1PS0/02)
The assessment is 1 hour and 20 minutes.
The assessment is out of 79 marks.
This paper contains six sections.
The paper will include calculations, multiple-choice, short-open, open-response and extended-writing questions.

Calculators may be used in the examination.
Year 11 Revision List
Attached is the list of all the topics students need to know for their Psychology exams. Students have completed this in class before they started revision. This checklist can be used at multiple times to review their knowledge. If pupils are struggling with any topics then they can use the revision PowerPoint or revision resources on Teams. If there are any questions then please contact Mr. Potts