Music

Approach to Teaching
Music is taught to all pupils in KS3 for one hour a week and five hours a fortnight in KS4. The music curriculum is aimed towards developing a variety of practical skills within the context of a musical style, device or genre. Pupils are encouraged to work independently to refine their skills but also collaborate and contribute to create confident group performances and compositions. Pupils receive regular verbal and written feedback as well as being encouraged to evaluate their own work and others. Group work, perseverance and development of self-confidence are skills transferable across other subjects.
The music department has a rich extra-curricular programme including choir, chamber choir, band, string orchestra, flute ensemble, brass ensemble, ukulele group, samba and music theory classes. Pupils perform regularly in school celebrations as well as partaking in city wide events. Pupils contribute musically to the spiritual life of the school through assembly music and music for masses. In September 2018, pupils travelled to London and performed a fantastic concert in Covent Garden. The music department work closely with the other performing arts subjects throughout the school year culminating in a successful, professional school production each summer.
We have a strong and committed team of peripatetic teachers offering lessons in most instruments. Pupils receive individual 20 minute lessons per week throughout each term.
Key Stage 3 (Year 7-9)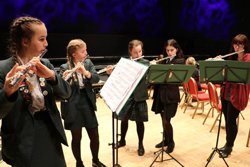 Year 7:
Who Knows?, Rhythm, Keyboard Skills, The Elements of Music, Variations, Film Music, Samba, La Bamba.
Year 8:
Arriba!, African Drumming, Pachelbel's Canon, Reggae, Morning Composition.
Year 9:
Drunken Sailor, Recycling, Dorian Dance, Blues Music, Dance Music, Four Chord Project.
Key Stage 4 (Year 10-11)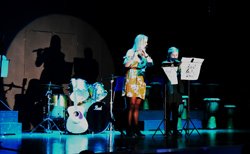 Eduqas GCSE Music – 601/813/X
Listening and Appraising – 40%
Performing – 30%
Composing – 30%
Listening to and Appraising Music
40% of final mark
Throughout the course you will study 2 set works and a variety of genres of music an d music theory.
This unit is assessed by a written exam at the end of Year 11 (1 hour and 15 minutes)
You will listen to extracts of music and answer questions relating to them.
Area of Study 1: Musical Forms and Devices – 'Eine Kleine Nachtmusik', Movement 3 -Minuet. Mozart (1787)
Area of Study 2: Music for Ensemble.
Area of Study 3: Film Music.
Area of Study 4: Popular Music – Set Work 'Since You've Been Gone' – Rainbow.
Performing Music
30% of final mark
In this unit you have to perform pieces of music lasting a total of 4-6 minutes – Grade 3 is the 'standard' level for assessment.
Ensemble Performance (compulsory) – This has to be performed by 2 or more live players with independent parts.
Solo performance: You can perform any piece of music, on any instrument.
Composing Music
30% of final mark
You will compose 2 pieces of music which can be for any combination of instruments in any style. Compositions should be a total of 3-6minutes across both pieces.
One piece is a free choice, the other is a set brief from the exam board.
A composing log to accompany each piece is also required.
You can music technology to help you compose. (I would recommend downloading musescore at home).
Instrumental Lessons at St Edmund's
Instrumental lessons are offered weekly for pupils for Woodwind, Brass, Guitar (electric/acoustic/bass), Drum Kit, Piano. Strings and Voice.
Lessons are charged at £90 per term for 10 individual lessons.
Pupils can collect a letter from Mrs Toogood in room 139 or download above to sign up for lessons. Reply slips must be returned by Wednesday 15th September.
Any enquiries, please contact carolyn.toogood@saintedmunds.org.uk
Music Lessons Autumn Term Timetables - click the links below
Please note that the timetables were accurate at the time of uploading onto the website and are subject to change. Students are informed of any changes to their timings.
Guitar Tuesday Updated 19:09.pdf
Portsmouth Music Hub
Portsmouth Music Hub is an active network of organisations working in partnership and committed to enhancing music and music education in and around Portsmouth.
Click on the link below to view the Portsmouth Music Hub website: