Please note that all our telephone calls are now recorded for monitoring, safeguarding and training purposes.
Monday 13th - Friday 17th September (WEEK A)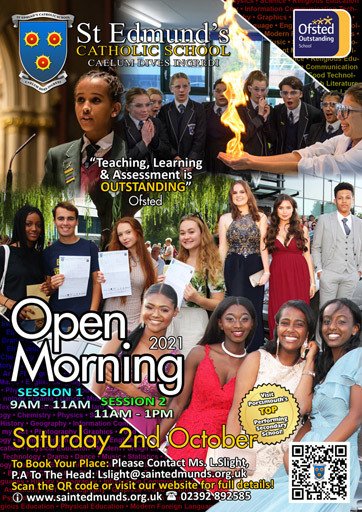 Click Here For Full Details And To Book Your Open-Morning 2021 Place!
Advance notice: St Edmund's will have an early finish on Friday 1st October for all students at 12.25pm.
Click here to view letter from the Head regarding Open Morning and early closure
MyEd App
We are aware of an issue with the MyEd app where it fails to download new messages sent from school. Our supplier is investigating this problem and have advised in the meantime to periodically 'sync' the app to ensure new messages are downloaded. We apologise for any inconvenience.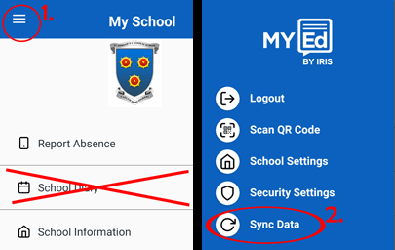 (1) Click the main 'settings' icon (2) Click on 'sync data'
Testing of Students
Now that we will have finished testing the whole school and are pleased that our family is as safe as possible. There are a number of students who have tested positive and are now isolating and we hope they feel better soon.
All students will need to continue to take their LFT Covid test EVERY Sunday and Wednesday and to register the outcome on the student covid test link (link below). All students have been issued with a Covid test kit to take home. If the result is positive please email the notification to covid@saintedmunds.org.uk, self-isolate and arrange to take a PCR test.
Click here to submit a student's LFD test result to the school
Covid - Know The Symptoms & Get Tested
As the country moved to Step 4 on 19 July 2021, the government issued new advice which parents and carers may find useful as guidance in preparation for the return to school in the Autumn term.
All children are expected back in school for the start of the new term unless they are self-isolating because they have coronavirus symptoms and/or have tested positive for coronavirus and/or have recently returned from abroad and are required to quarantine.
Some parents and children may feel anxious about the return to school, however, schools and settings are following national and local guidance and to minimise the risk of infection. Please continue to encourage your child to follow the guidance. Children are at very low risk of becoming seriously unwell from Covid-19.
Anyone with coronavirus symptoms must self-isolate and request a PCR test.
Children under 18 years and 6 months are no longer required to self-isolate if they are a close contact of someone who has tested positive, including if they share a household with someone who has tested positive, but may be asked to do a PCR test.
Everyone over 16 is now eligible for a vaccine and children aged 12 to 15 with specific underlying health conditions or who live with others at increased risk of getting seriously ill from Covid-19 are also eligible for the vaccine.
If you have coronavirus symptoms, you should book a test by calling 119 or visiting Gov.UK. The symptoms are:

A high temperature

A new, continuous cough

A loss or change to your sense of smell or taste.
If a student tests positive with Covid please email covid@saintedmunds.org.uk with a copy of the positive test result confirmation.
If your child is ill at all, then err on the side of caution and keep at home until they are fully well. If they have Covid symptoms then you must keep them at home and should book a PCR test.
All students should continue to test twice a week on a Wednesday and on a Sunday and results recorded through the NHS website and on the student link below.
Click here to submit a student's LFD test result to the school
Latest News
Latest St Edmund's School News
Letter from Headteacher

Year 11 Leavers Prom

Leavers Assembly and Leavers Prom

9th June and 13th July
Further Articles »
Latest School Calendar Events
Year 7 Retreat

23

Sep

2021
Year 7 Retreat

30

Sep

2021
Early finish for all students

01

Oct

2021

12:25 pm - 12:30 pm
Latest School Tweets
14 May RT @StEdsPortsmouth: ** Vacancy** The Governors welcome applications from a dynamic, innovative and successful teacher for Religious Educat…
14 May Would you like to work in an outstanding school? We have a vacancy for a school cleaner to start as soon as possibl… https://t.co/fys90KwOqh
12 May #Love reading! Reading Week 17th-21st May 2021. #Relax with a gr8 book!
27 Apr ** Vacancy** The Governors welcome applications from a dynamic, innovative and successful teacher for Religious Edu… https://t.co/vBxP4pAZi6