Monday 19th - Friday 23rd October 2020 (Week B)
Key Dates: Friday 23rd October - non-uniform day £1 payable to tutors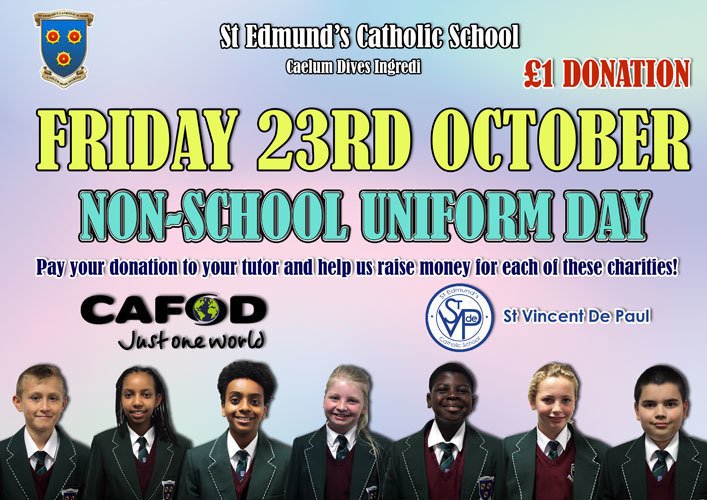 Half-Term: 26th - 30th October 2020 (school will be closed)
Important Notice re Year 7 Parent Tutor Evening 22nd October 2020
There will be no face to face Year 7 Tutor parent meetings on the 22nd October. The tutors will make the calls to the parents/carers at the allocated time slots. Please do not turn up to the school for your appointment.
Teams / Office 365 Password Reset
If you have been asked to 'self isolate', and require a password reset for Teams / Office 365 please ask your parent or guardian to email your Full Username & Tutor Group to: school@saintedmunds.org.uk
Regrettably, we cannot accept password change requests by phone for security reasons or if you are not self isolating.
Important notice to Parents/Carers
In light of Covid-19, we kindly ask that parents/carers visiting the school must wear a mask. No parents/carers should be on the school site unless they have made a prior appointment or are collecting uniform as arranged in advance. This is in line with guidelines to protect all children and staff and ensure the safe openings of the school. Anyone visiting the school site not wearing a mask or without a prior appointment will be asked to leave. Due to restrictions with Covid-19 we would kindly ask that no bulky items or forgotten PE kit is handed into school as we have very limited capacity to get this to the students and cannot guarantee that these items will be delivered. Where possible any forgotten lunch money should be paid onto the student's parent pay account.
Update re Year 11s
Any Year 11 student who needs to attend a College open evening in person or virtually that starts before you have a chance to get home after Period 6 MUST bring a signed note in their planners from their parents to say they are excused from Period 6 for that day. This will mean the Year 11 student will be allowed to leave at 3.10pm that day. The student must show the note to tutors in the morning who will sign their planners to say they have seen it. If this is not done we will not be able to let the student leave the school site and they must attend Period 6.
Latest School Tweets
19 Oct Would you like to work in an outstanding school? We currently have a vacancy for a Head of Learning (Maternity Leav… https://t.co/I7CoRMhoGJ
30 Sep Due to an overwhelming response our Open Morning on Saturday 10th October is now fully booked. We are pleased to o… https://t.co/0xsvyxxfgM
30 Sep We currently have a vacancy for a Science Technician and a Teaching Assistant (Maternity Leave). For full details… https://t.co/NJLQnjiB5q
21 Sep An amazing Geography homework project by a Year 9 student. https://t.co/GjLVT2kmP6
Music Department - Folk Weekend
Latest News
Latest St Edmund's School News
Student Headphones

Important Update for Year 11 Leavers 2020

Globalbridge - For Year 8 and Year 9 students

Open Morning Fully Booked
Further Articles »
Latest School Calendar Events
Non-School Uniform Day

23

Oct

2020

Students to bring in £1 which will go towards a chosen charity
Half-term

26

Oct

2020

12:00 am - 30 oct, 1:00 am
St Edmund's Day

16

Nov

2020