Textiles
Approach to Teaching
"Design and Technology is about making things that people want which work well. Creating these things is hugely exciting: it is an inventive and fun activity"
Quote- James Dyson, Chairman, Dyson ltd.
Textiles Technology at St Edmund`s Catholic School allows students to learn through problem solving and engage in their learning through creativity, giving them the ability to turn their ideas into reality.
All pupils have the opportunities to experience practical activities having watched demonstrations. They participate in experimental sessions and develop their independent research skills through the use of ICT.
Key Stage 3 (Year 7-9)
During Year`s 7, 8 and 9 all pupils will have the opportunity to study Textiles within a roundabout of 8 week cycles.
Year 7 Design Brief
Design and make a mobile phone case with applied colour and quilting as decorative techniques.
| | | |
| --- | --- | --- |
| | | |
During this module pupils will learn how to use the sewing machines both accurately and safely, how to apply fabric dyes successfully from their own original design idea plus understanding and applying the technique of quilting. They will develop their measuring skills and will realise the importance of clear written and verbal evaluation.
Year 8 Design Brief
Design and make a fleece hat suitable for a clothing manufacturer that would be suitable for a teenager.
| | | |
| --- | --- | --- |
| | | |
During this module pupils will learn how to develop a design ergonomically, produce a fleece hat that shows accuracy and precision together with a creative use of applique for decoration. They will develop research skills in both fashion hat designers plus the history of hats. They will also be encouraged to decorate their hats with further embellishments such as beads, sequins and buttons.
Year 9 Design Brief
Design and make an interior design product that uses influence of pattern from another culture.
During this module the pupils will build up their skills and learn different decorative techniques such as couching, trupunto, embroidery stitches, fabric painting and reverse applique. They will research into smart materials and recycling processes and will know and understand the correct terminology, processes and characteristics of materials and fabrics. They will also be introduced to developing their design ideas based on feedback from others during the evaluation stages.
Key Stage 4 (Year 10-11)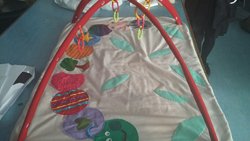 AQA Art and Design textiles syllabus
Coursework (60% of the total GCSE) At least 2 full projects completed in Year`s 10 and 11.
Exam (40% of the total GCSE) Exam prep time ( approximately 8-12 weeks). Final exam (10 hours) completed at Easter time of Year 11.
AQA Art and Design –Textiles –For year 10 only 2018/19- code 8204
The course offers pupils the opportunity to develop high level designing and making skills as well as significant opportunities to develop as independent learners. Equally important are the opportunities offered to develop their creativity skills and the grit and determination necessary to complete project assignments successfully over an extended period of time.
Assessment is based upon a coursework portfolio which provides evidence of at least 2 projects covering skills such as weaving, felting, surface decorations, embellishments, construction methods and printing. The 2 projects are:
Fashion design and illustration.
Soft furnishings and/or textiles for interiors.
There is also an externally set exam.
| | | |
| --- | --- | --- |
| | | |