Prom Fayre 13th November 2019
Prom Fayre 13th November 2019
9 October 2019 (by Lisa Slight (lslight))
New Exciting Event aimed at Current Year 11 Students across the City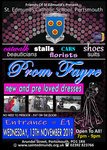 New event organised by the Friends of St Edmund's Prom Committee including our Year 11 students.
A exciting opportunity to come along on the 13th November from 7pm to 9pm £1 entrance fee to view stalls, cars, shoes, beauticians, florists and a catwalk sampling dress and suits.
So if you are currently in Year 11 and looking for ideas for your School Prom please do come along.
Open to all!
Share this: