Free Bagels for Students
Free Bagels for Students
1 May 2019 (by Lisa Slight (lslight))
National Schools Free Breakfast Programme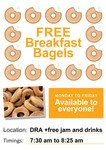 At least half a million children in the UK arrive at school each day too hungry to learn.
The National School Breakfast Programme is a partnership between Family Action and Magic Breakfast, funded by the Department for Education, using the 'sugar tax'.
It is working to support 1775 schools across the country to improve access to healthy breakfasts and learning.
The programme is aiming to:
Ensure more children receive a healthy breakfast at the start of their day.
Improve educational outcomes of young people.
Share best practices across schools and encourage innovative approaches to school breakfast provision.
As part of this programme bagels are available in our kitchen for students who would like to have breakfast. Free jam and butter also provided to go with the bagel.
To gauge parental view about this programme we have been asked to obtain parents/carers views on the attached survey which can be dropped into the school and we will forward to the organisation.
Surveys are to be returned to the school marked for the attention of Mr J Cooper, School Business Manager or electronically to Jcooper@saintedmunds.org.uk
Deadline for return of the surveys is Friday 10th May 2019.
Share this: