Latest Homework Calendar Events
Year 7 English Homework due in

20

Jan

2020
Year 8 ICT Homework due in

20

Jan

2020
Year 9 Geography Homework due in

20

Jan

2020
Year 7 RE Homework due in

27

Jan

2020
Homework Assignments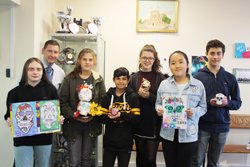 Click Here for KS3 (Years 7,8 & 9) Homework Assignments
Click Here for KS4 (Years 10 & 11) Homework Assignments
If you have any further questions or concerns about homework please contact your child's tutor, Head of Learning or the appropriate Head of Department.
Thank you for your support.
15 Jan Advance Notice half term: 17th to 21st February inclusive. All our term dates can be viewed on our school website.
15 Jan Year 11 Parent's Evening, Thursday 6th February 2020, 4pm to 6.30pm.
15 Jan Year 9 Options Market, Thursday 23rd January 2020, 4.30pm to 6.30pm. This is a very useful and informative evening… https://t.co/N9hSIipoSz
15 Jan Would you like to work in an Outstanding School? Why not take a look at our current vacancies we have here at St E… https://t.co/s2oFfS2jKn
Latest News
Latest St Edmund's School News
Annual Senior Citizen Party

Years 7 - 11 Celebration Assemblies

Raffle Prizes Wanted

12th December 2019 Disco Night
Further Articles »
Latest School Calendar Events
Year 9 Options Market

23

Jan

2020

4:30 pm - 6:30 pm
Year 11 Parents Evening

06

Feb

2020

4:00 pm - 6:30 pm
OAP Party

13

Feb

2020

2:00 pm - 4:00 pm