Latest Homework Calendar Events
Year 7 Dance Homework due in

06

Jan

2020
Year 8 Geography Homework due in

06

Jan

2020
Year 9 English Homework due in

06

Jan

2020
Homework Assignments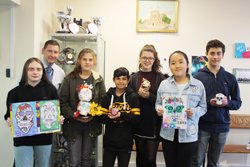 Click Here for KS3 (Years 7,8 & 9) Homework Assignments
Click Here for KS4 (Years 10 & 11) Homework Assignments
If you have any further questions or concerns about homework please contact your child's tutor, Head of Learning or the appropriate Head of Department.
Thank you for your support.
19 Nov RT @portsmouthmusic: Next Monday, our One World Choir will be performing at the @TheGreenOrg Environmental Awards in The House of Parliamen…
19 Nov https://t.co/PXO4zfzEZA
18 Nov Few photographs from our Prom Fayre. Huge thank you for all those who came along to support this event. https://t.co/Q3TvzjeLAu
18 Nov School Disco tickets for Years 7 & 8 are now available to purchase.
Latest News
Latest St Edmund's School News
Raffle Prizes Wanted

12th December 2019 Disco Night

20th December 2019 arrangements

Christmas Lunch
Further Articles »
Latest School Calendar Events
Year 11 Mock Exams

04

Dec

2019
School Carol Service followed by refreshments

16

Dec

2019

6:00 pm - 8:00 pm
Year 7 Christmas Lunch

17

Dec

2019

12:50 pm - 1:30 pm