MyEd App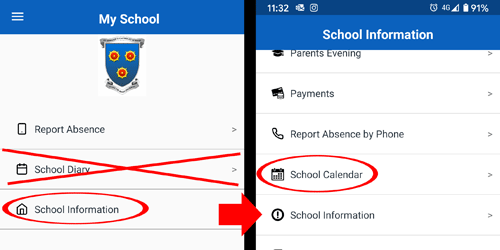 Due to a recent change with the MyEd App an unused school diary option has appeared. To access our normal School calendar please click School Information->School Calendar. We apologise for any confusion caused, and are endeavouring to have this item removed.
MyEd School Phone App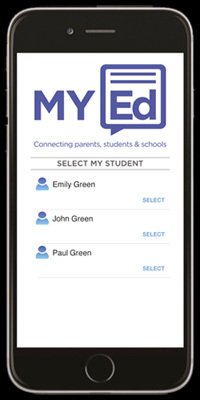 As a school we are constantly looking at ways to improve our communication between school and home. Research shows that parental engagement has a significant benefit on learning.
The 'My Ed' app provides information about your own child on attendance, behaviour, pupil timetable, progress data and links to various sections of the school website to find information on letters sent home, calendar of events and the Parent Pay facility.
Once downloaded, this App will give you instant access to this information and much more.
You will also have access to fill in forms securely and return them directly to the school via the App. Any texts will go direct to the App so you can view these.
We would like to encourage all parents and carers to download the App below as this will be our main form of communication from the 1st September 2020:

Once downloaded it will ask you to search for the school – use our school postcode PO1 1RX (including the space) or 'Edmunds'. Please remember to select 'St Edmund's Catholic School in Portsmouth'.
It then asks you for your Name, Phone number and Email address. This must be the same information that we would hold in School, and it is the way that the App links to your child.
The phone number must be the primary contact you have given the School. You should then have access to a home page.
If you have changed your mobile number recently and are yet to notify the school please do so via school@saintedmunds.org.uk clearly stating the name of the student (s) or by telephone on 023 92 823766.
If the records we hold on our system for you do not match the details you have used to register, you will not be able to view your child's data. Please note that some of the functionality, such as student timetable, will only appear 24 hours after you have signed up.


Technical Help
For technical help please email: support@myedschoolapp.com. Please note 'My Ed' cannot provide any help with setting or changing personal data - please contact the school: school@saintedmunds.org.uk
Further information about 'My Ed' can also be found on their website www.myschoolapp.com.
Receive or Send a Text
1. Select Messages
2. Select 'General' messages to receive and/or send messages to the school.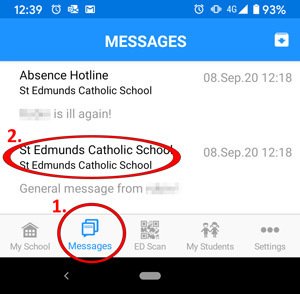 Send An Absence Text
1. Select Messages
2. Select 'Absence Hotline' to send a message to the school.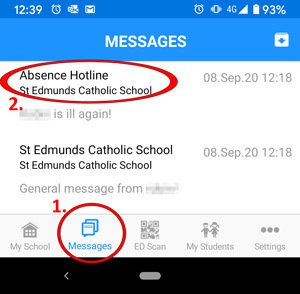 'MyEd' School Communication App Letter to All Parents/Carers
| Name | |
| --- | --- |
| All Parents re School Communication App June 2020.pdf | Download |
Showing 1-1 of 1