Performed By Students From St Edmund's Catholic School & Admiral Lord Nelson School
Trinity Suite - Emotional Wellbeing Centre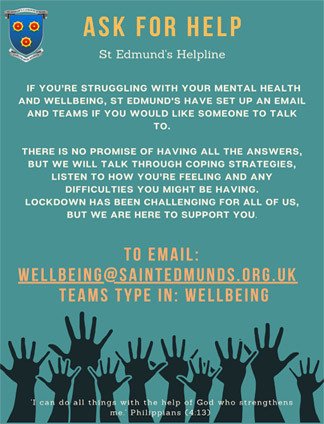 If you're struggling with your mental health and wellbeing this lockdown, St Edmund's have set up an email and Teams if you would like someone to talk to.
There is no promise of having all the answers, but you will receive advice and have someone to listen to how you're feeling and the difficulties you might be having at home. This lockdown has been difficult and we are here to support you.
Email: wellbeing@saintedmunds.org.uk
Teams: Type in WELLBEING
Scroll down to view our handy 'survival' guides!
Children's Mental Health Week 1st - 7th February 2021
Meet Our Emotional Support Dogs!