Lateral Flow Test Information & Consent Forms
Last update: 2021-01-07

Should any families be impacted by Covid over this term or experience other similar problems please email: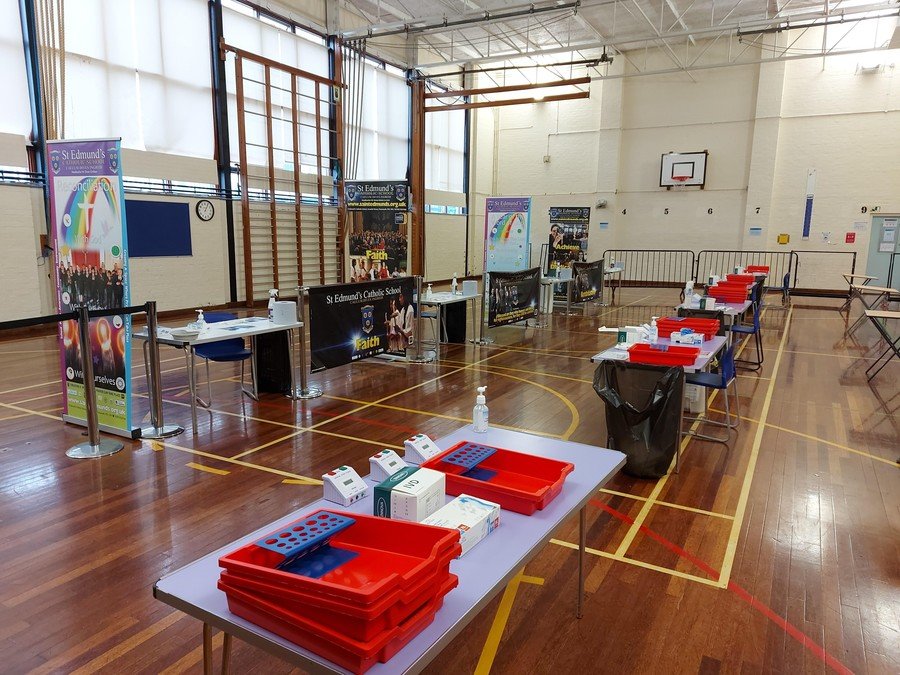 NHS Test and Trace: Covid-19 testing for Staff and Students
We are working to keep our school as safe as possible. The Governments plan is that for those without coronavirus symptoms national testing is beginning across the country using new, quicker Covid-19 tests known as 'lateral flow tests'.
Along with the other protective measures we are taking, these tests will help staff and students to remain in school safely. Up to one third of people who have coronavirus experience no symptoms. By testing we will help to stop the virus spread and help to keep St Edmund's open as safe as possible. The test is voluntary, but I would encourage everyone to take it. Students who do not take the test will still be able to return to school as planned. However, if identified as a contact in a positive case they will be required to isolate at home and not eligible to remain in school to be tested for 7-days. Giving consent for your child to be tested will be a huge benefit for students and families knowing they can remain in school and be safe.
We will be testing all staff and students who want to participate over the next few weeks. Individuals who do not wish to be tested must wear a mask at all times in their classroom/building.
Students who have already had a positive test do not need to re-test for 90-days (as this would give a false positive). However, we would still ask for consent in advance so that we can test if required. Please ensure you indicate a positive test for coronavirus on the form. Those taking the test will be supervised by trained staff. The 'lateral flow' tests are quick and easy using a swab of the nose and throat. For under 18s, staff can oversee the swab process.
Results (which take around half an hour from testing) will be shared directly with staff and pupils participating. Where participants are under 16, parents or legal guardians will also be informed.
We know these tests work – in validation studies conducted by Oxford University and Public Health England, they were shown to be as accurate in identifying a case as a PCR test (99.68% specificity). The tests have lower sensitivity but they are better at picking up cases when a person has higher viral load, hence the need to test frequently.
Testing will be offered free of charge.
If you are happy for your child to be tested, please click on the icon below to complete our online consent form (one per pupil/student) to be completed by Thursday 7th January 2021.
NHS Test and Trace Consent Form for COVID-19 Testing

This consent form has been designed for use by Parents/carers of students and under 16s, students over 16 and staff.
•

For students younger than 16 years

- this form must be completed by the parent or legal guardian. Please complete one consent form for each child you wish to enrol.
•

Students Over 16

can complete this form themselves, having discussed participation with their parent / carer if under 18.
Please read the following statement before completing this form, by completing this form you agree to the statements below.
1. I have had the opportunity to consider the information provided by the school/college about the testing, ask questions and have had these answered satisfactorily, based on the information presented.
2. In the case of under 16s, I have discussed the testing with my child and my child is happy to participate. If on the day of testing they do not wish to take part, then they will not be made to do so and consent can be withdrawn at any time ahead of the test.
3. I consent to having / my child having a nose and throat swab for a lateral flow test.
4. I consent that my / my child's sample(s) will be tested for the presence of COVID-19.
5. I understand that if my child / my result(s) are negative on the lateral flow test I will not be contacted by the school/college except where they/you are a close contact of a confirmed positive.
6. If the lateral flow test indicates the presence of COVID-19, I consent to my child having / having a nose and throat swab for confirmatory PCR testing, which shall be sent the same day to an NHS Test & Trace laboratory.
7. I consent that I / they will need to self-isolate following a positive lateral flow test result, until the results of the confirmatory PCR have been received.
8. I agree that if my / my child's test results are confirmed to be positive from this PCR test, I will report this to the school and I understand that I/ my child will be required to self-isolate following public health advice.
9. I consent that if a close contact of my child tests positive but I / my child has tested negative, I / they will continue to attend school but will be tested every day at school / college for 7 days.